Welcome
Welcome to the official website for the United States Bankruptcy Court for the Southern District of Iowa.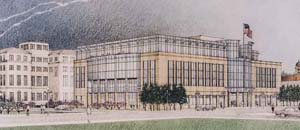 PLEASE NOTE:
Iowa Southern Bankruptcy is implementing the Next Generation of CM/ECF on
April 23, 2018
. In preparation for this change, please ensure that you have an individual upgraded PACER account prior to April 20, 2018. See the information for creating and upgrading your PACER account on our website at
NextGen CM/ECF
.
YOUR CM/ECF LOGIN AND PASSWORD WILL STOP WORKING ON APRIL 23, 2018 IF YOU DO NOT HAVE AN INDIVIDUAL AND UPGRADED PACER ACCOUNT.
Court Location
U.S. Bankruptcy Court
Southern District of Iowa
110 East Court Avenue, Suite 300
Des Moines, Iowa 50309
(515) 284-6230
Hours and Directions »
Attention Creditors
Receive your notices through EBN - Electronic Bankruptcy Noticing
Reliable • Fast • Efficient • Free
Register now »
News & Announcements
The United States Court of Appeals for the Eighth Circuit seeks applications from highly qualifie More »